Ingezonden stukje door Dhr.Henk Stemerdink;(21-01-2018)
Op jullie website was ik de geschiedenis aan het lezen en meen mij te herinneren dat we na het witte shirt met zwarte broek (die heb ik niet gedragen) een groen shirt met witte nummers en een witte broek aanhadden met onderstaand geborduurde logo die ik nog altijd in mijn scheidsrechters tas heb zitten. Ik ben in 1965 lid geworden van Boemerang tot mijn trouwen in september 1980. In 1978 voorgedragen door Henk Overvelde voor de opleiding tot Nationaal scheidsrechter.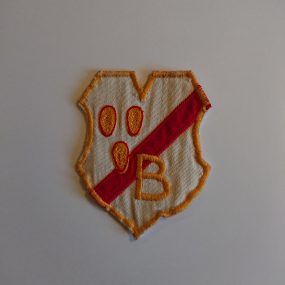 Een kleine historische terugblik.
In 1952 werd in Eibergen volleybalvereniging Boemerang opgericht.
Één van de medeoprichters, erelid Jan Antink, was toen 15 jaar!
In 1952 gaf de Eibergse sportvereniging SSSE, afdeling voetbal, via een advertentie aankomende sporters de kans om aan volleybal, handbal of gym te gaan doen. Ongeveer 150 nieuwsgierige mensen kwamen naar het voetbalveld aan de Haaksbergseweg, maar daar was geen enkele leiding of opvang aanwezig. De nieuwe "sporters" gingen maar wat doen!
Een clubje enthousiastelingen, van de politie, douane en de Toppers (Indiëgangers) speelden daarna samen het spelletje volleybal op een grasveldje achter dat voormalige voetbalveld van zaterdagclub SSSE. Met een echte…..voetbal! Paaltjes van panlatten en een geleend net van de Eibergse douaniers markeerden het volleybalveld.
Al snel werd het clubje groter en werd de vereniging officieel op de kaart gezet. De naam BOEMERANG werd samen bedacht door de spelers 'die de volley bal steeds weer terug' kregen. Dat doet een echte boemerang namelijk ook!
De Nevobo was al in 1947 opgericht, maar in Eibergen werd samen met Borculo, Neede en de douane een "wilde" competitie gespeeld. Niet lang daarna werd Boemerang lid van de Nevobo, district Oost. Door een enthousiaste gymleraar (erelid Erik Stam) kwamen er steeds meer leden bij. Het herenteam speelde vrij al snel hoog in de competitie en werd zelfs in 1960 kampioen van het district!
In het begin speelde de club met een wit shirt en zwarte broek. Op het shirt prijkte het door Erik Stam getekende Boemeranglogo, dat lange tijd op het clubblad van de vereniging (Time-Out) stond. Het witte shirt werd vervangen door een groene met gele bies en zwarte nummers. Het blauwe broekje en blauwe shirtnummers werden bedacht door de dames die blauw mooier vonden dan zwart.
(Toen ik met volleybal begon was ik ook 15 jaar. Enthousiast gemaakt op de HBS in Groenlo werd ik "junior lid" van het Aaltens clubje van 16 leden: BOVO. Ook speelde ik meteen competitie in kleine gymzaaltjes in Winterswijk en Lichtenvoorde. Toen hoorde ik al dat in Eibergen een fantastisch team hoog volleybal speelde.)
Er werd eerst "binnen" getraind in een gymzaal, die de naam gymzaal eigenlijk niet verdiende. Overal materialen en uitsteeksels en balken en…. een splinterplanken vloer. Die gymzaal stond op de plaats, waar nu de kastanjebomen tegenover de Hema staan. (In deze "schuur" heb ik zelfs in 1967 nog les gegeven aan basisschoolkinderen!) Als het net opgebouwd moest worden, werden eerst de dakpannen tussen de panlatten verschoven. Het net werd vastgemaakt aan de stevige houten staanders van de "gymzaal." In de winter werd er met handschoenen aan getraind!
Er was ook een andere gymzaal, "Bartelink." (De naam van de beheerder.) Daar kon je beter volleyballen. Alleen…een erg laag plafond. In de nieuwe, 20 cm. hogere zaal ernaast, "Bartelink 2" kon vanaf 1970 beter worden gespeeld en getraind.
Nog 10 jaar later werd een weer iets hogere gymzaal gebouwd aan de Esweg. Daar bloeide de vereniging dusdanig uit z'n voegen, (16 seniorenteams!) dat de bouw van een sporthal niet uit kon blijven. En de Pickerhal kwam! Nu het trotse onderkomen van onze mooie volleybalclub. Momenteel geen competitief herenteam, maar wel een jongens team, vijf meisjes en vier dames teams. Binnen boemerang is er een goede jeugdopleiding, al vanaf zesjarige leeftijd kan worden gestart bij de CMV. Ik hoop dat er in de toekomst eigen jeugd doorstroomt naar het prachtig 1e damesteam, dat meedoet in de landelijke 2e divisie.
Informatie: Jan Antink.
Tekst: Theo Lurvink.